Imagine a world where streaming content is the norm and cable TV will go in the way of dinosaurs. With the growing demand for streaming content, it could become a reality sooner than we think. As more people are abandoning conventional cable services and cutting the cords, advertisers are seeking innovative strategies to connect with their audiences. Connected TV offers the perfect solution to that.
What is Connected TV Advertising?
CTV advertising (a.k.a. Connected TV advertising) targets audiences through streamed content on internet-connected televisions, like smart TVs. With more consumers turning to streaming services or lacking access to traditional television, CTV advertising allows advertisers to connect with them. Advertisements are strategically placed before, during, or after selected video content, usually ranging from 15-30 seconds to over a minute in length. CTV advertising is becoming an essential tool for marketers to promote their products and services to consumers.
When it comes to advertising on television, the traditional method involves broad advertising with the intent of reaching a wide audience. However, this approach can often result in ads being shown to uninterested viewers. Additionally, measuring the effectiveness of such campaigns from traditional TV advertising can be difficult. Furthermore, due to changes in content consumption habits, cable, and satellite TV viewership has decreased significantly over the past decade.

Research shows that 56% of Americans still watch television via cable or satellite (which dropped from 76% in 2015). Among them are 71% of viewers who no longer use cable or satellite due to the lack of online content available on these channels. 61% of respondents report having had subscriptions to cable and satellite in the past. 39% claim they never subscribed to cable or satellite.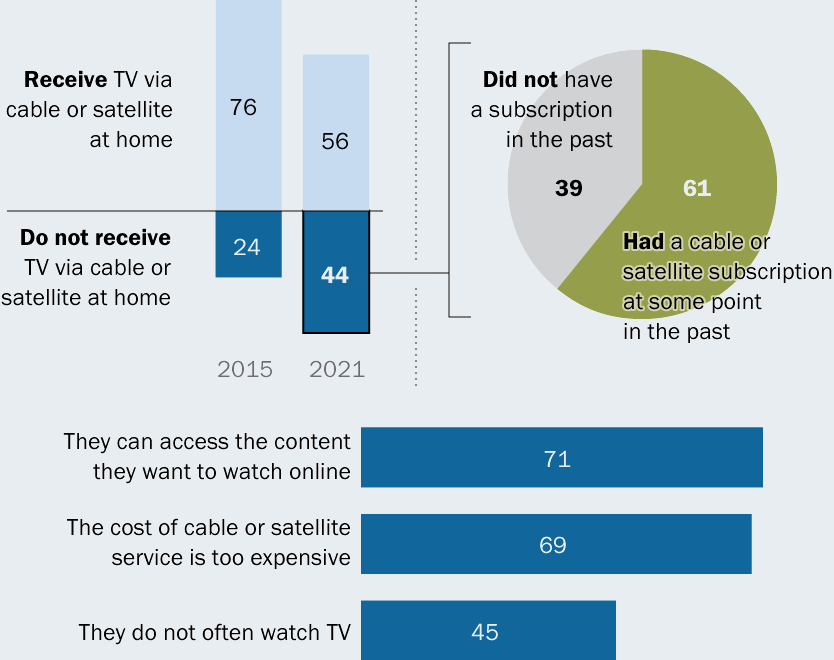 Source: Pew Research Center
Ad Spending: Linear Channels and CTV applications
Subsequently, advertisers began to shift their focus to CTV advertising and reduced their spending on traditional TV linear ads as they followed their viewers to this platform.
eMarketer reports that global CTV ad spending is poised to grow by $25.9 billion this year.
Although traditional TV advertising spending has declined in recent years, the combined ad spending on linear and connected TV is expected to increase from $87.24 billion this year to more than $100 billion in 2026.
This is mainly due to the surge in popularity of connected TV viewing, which is expected to offset the decrease in cable TV ad spending.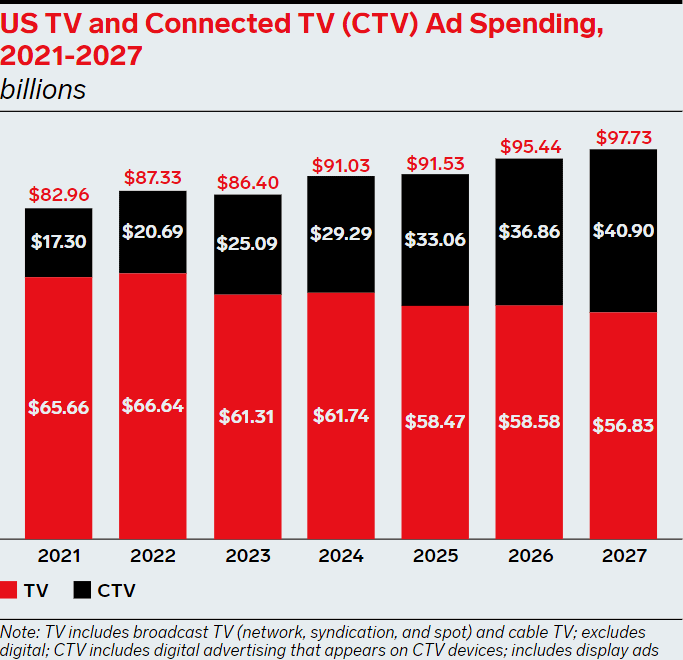 Source: Insider Intelligence, eMarketer
How Does Connected TV Advertising Work?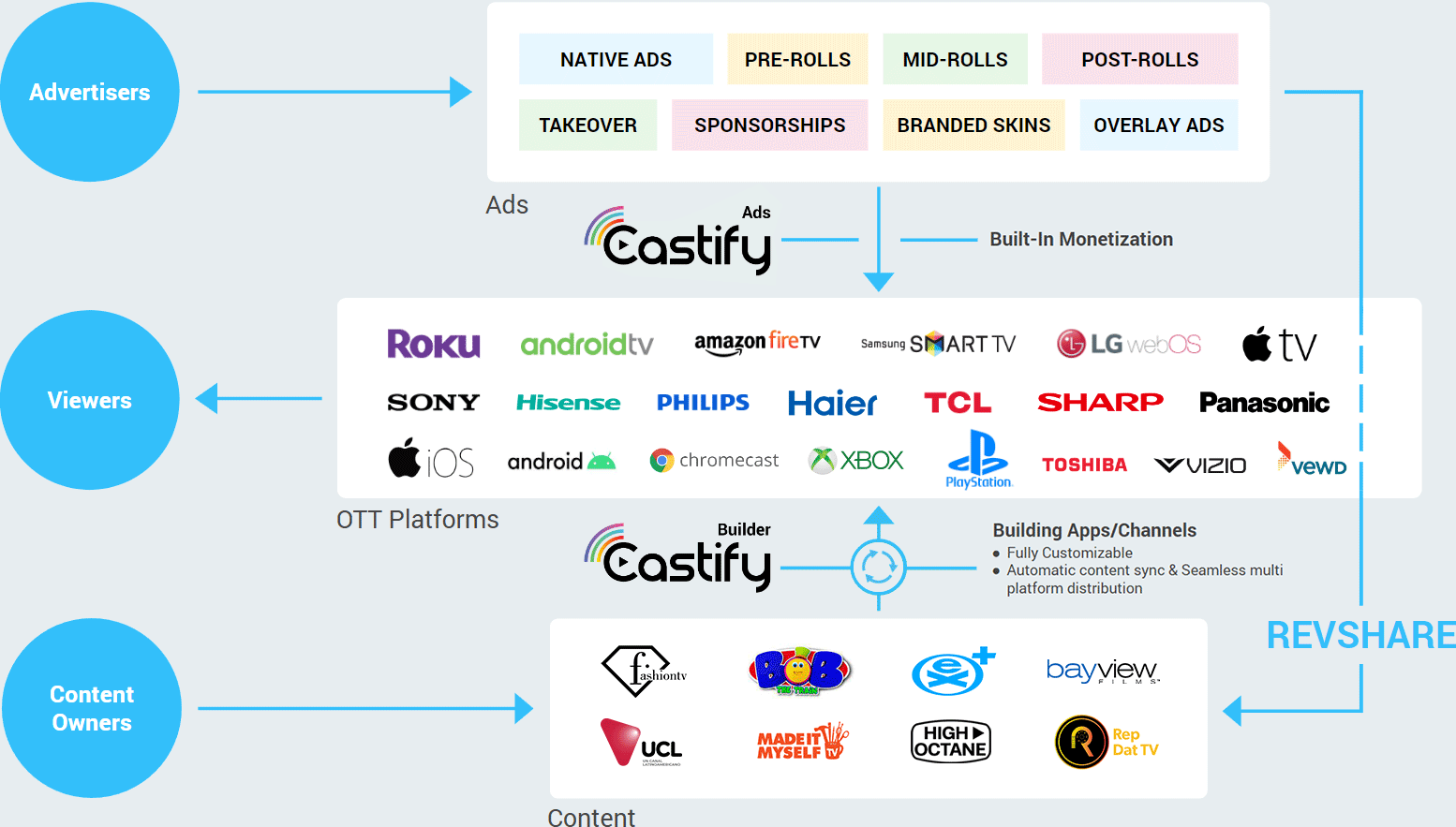 Advertisers buy ad space (ad inventory) from a connected TV platform in which case their ads are then shown to viewers while watching video content, networks, and publishers like Hulu, Peacock, Tubi, and Pluto TV provide the streaming video content in which ads are shown. Recently, both Netflix and Disney+ have also begun offering ad-supported video content. Additionally, a variety of CTV devices, including smart TVs, Roku, Apple TV, and Amazon Fire TV Stick, display these CTV ads.
Buying CTV Ad Inventory
Advertisers can buy inventory from a variety of sources. A study from IAB shows that 30 app developers make up 75% of CTV inventory. Here are some key players:
Content owners - They have access to certain programming platforms, including TV networks, streaming services, and production studios.
App developers - They create and distribute streaming apps that viewers can download onto their connected TVs to access popular content providers like Netflix, Pluto TV, Crackle, and Hulu.
CTV Manufacturers - They manage and control the distribution of apps on their platforms. Examples of manufacturers and their application stores include the Apple TV, TVos App Store, and the Roku Channel Store.
3 Main Benefits of CTV Advertising
Apart from having the advantage of connecting with viewers in front of the big screen, CTV advertising offers numerous advantages for brands:
Targeting Precision

Advertisers can target their ads based on a variety of factors, including user demographics, interests, and even the content they (users) are watching via CTV advertising. Doing so ensures that ads reach the right audience and that advertisers are not wasting valuable time and money on ads that won't reach the core audience.


Enhanced Ad Engagement

As more viewers opt for CTV content, they are more prone to engaging with ads woven into their watching experience. The secret behind all of this is tailored data. For example, ads that align with viewers' interests seamlessly become part of the content. That means ads have a better chance of capturing and becoming top-of-mind to potential customers.


Cost-Effective

CTV advertising offers a budget-friendly solution to traditional TV advertising methods. As advertisers reach a more relevant audience segment, they can magnify leads and conversions to maximize ROI and reduce wasted ad spend.
How to Target Your Audience on CTV

Brands can leverage digital targeting technology to reach specific audiences with first-party data (i.e. engaging with people via their loyalty program by sharing this data with the CTV platform). If they don't have first-party data, they can get second-party data from a trusted partner who has a similar audience (customer social media profiles, customer feedback, surveys, website activities, etc.) or buy third-party data from companies. This data is anonymized, devoid of personal information, and can be used to create audience segments.
Measuring the Success of Your CTV Ad Campaigns
CTV advertising mostly operates on data. This is great news for advertisers looking for ways to track and measure the impact of their campaigns. CTV platforms automate much of the campaign measurement process. These platforms can determine ad prices and placements based on a spectrum of dynamic factors.

The KPIs advertisers can measure at a glance but are not limited to:
Impressions - measures the number of times your ad has been displayed on the screen.
Viewability - the percentage of your ad that's viewable on the screen.
Frequency - monitors how often viewers are exposed to the ad.
Video Completion - the percentage of viewers who watched your entire ad.
Cost per Completed View - analyzes and compares the total campaign spending to the total number of completed views.
Post View Website Visits - studies internet activity after viewing an advertisement to find a correlation between website visits and ad views.
CTRs - estimates the number of viewers who clicked on an ad, indicating their interest in your products or services.
Conversions - looks at desired actions taken by viewers such as mobile user acquisition, app installs, purchases made from a website, etc.
Attribution - determines how many conversions can be attributed directly to the CTV ad campaign.
You can amplify these metrics even further by blending them with other channels. When you partner with Castify.ai, you receive a comprehensive understanding of your ad performance from every angle. With our integrated AI tools, you can measure key factors like brand lift and attribution to gain invaluable insights into your business's success.
Conclusion:

CTV advertising is a rapidly growing market, and advertisers who want to reach their target audience need to pin down the basics first. By following these tips, you can create successful CTV campaigns that reach your target audience and deliver results.

Need help building a CTV advertising strategy to drive more results but don't know where to start?

Reach out to Castify.ai today and we'll get you started!